focused on quality from start to finish
Designed with purpose
When we sat down to sketch our vision for the foundation tag, there were various elements that we considered to be nonnegotiable — the foremost being quality. With what this tag represents, it was imperative to create a design that would withstand being worn day after day, year after year, generation after generation.
We also paid close attention to the shape and detail portrayed by each tag. After a year long sampling process, we settled on a dog tag style pendant, with a raised rim and soft, rounded edges. The raised rim allows this tag to serve as a beautiful foundation for layering, and is intended to be built upon — with each addition nestled within.
Our master jewelers finalize each piece by hand polishing the entire surface to produce a mirror like finish. We wanted the reflection to draw your eye to the beauty of the piece, that will ultimately patina overtime — adding to the story of what our legacy foundation tags represent.
Shop the foundation tag
Subheading
MADE WITH CRAFTSMANSHIP
Designed in the United States, and manufactured with our industry leading partners with a home base in Boston, each foundation tag is individually die struck. An age old process that was traditionally used in coin production, die striking results in an incredibly strong and solid final piece. After testing both cast and die struck tags, we chose to invest in the die striking method to create a line of true legacy jewelry.
Learn More About Die Striking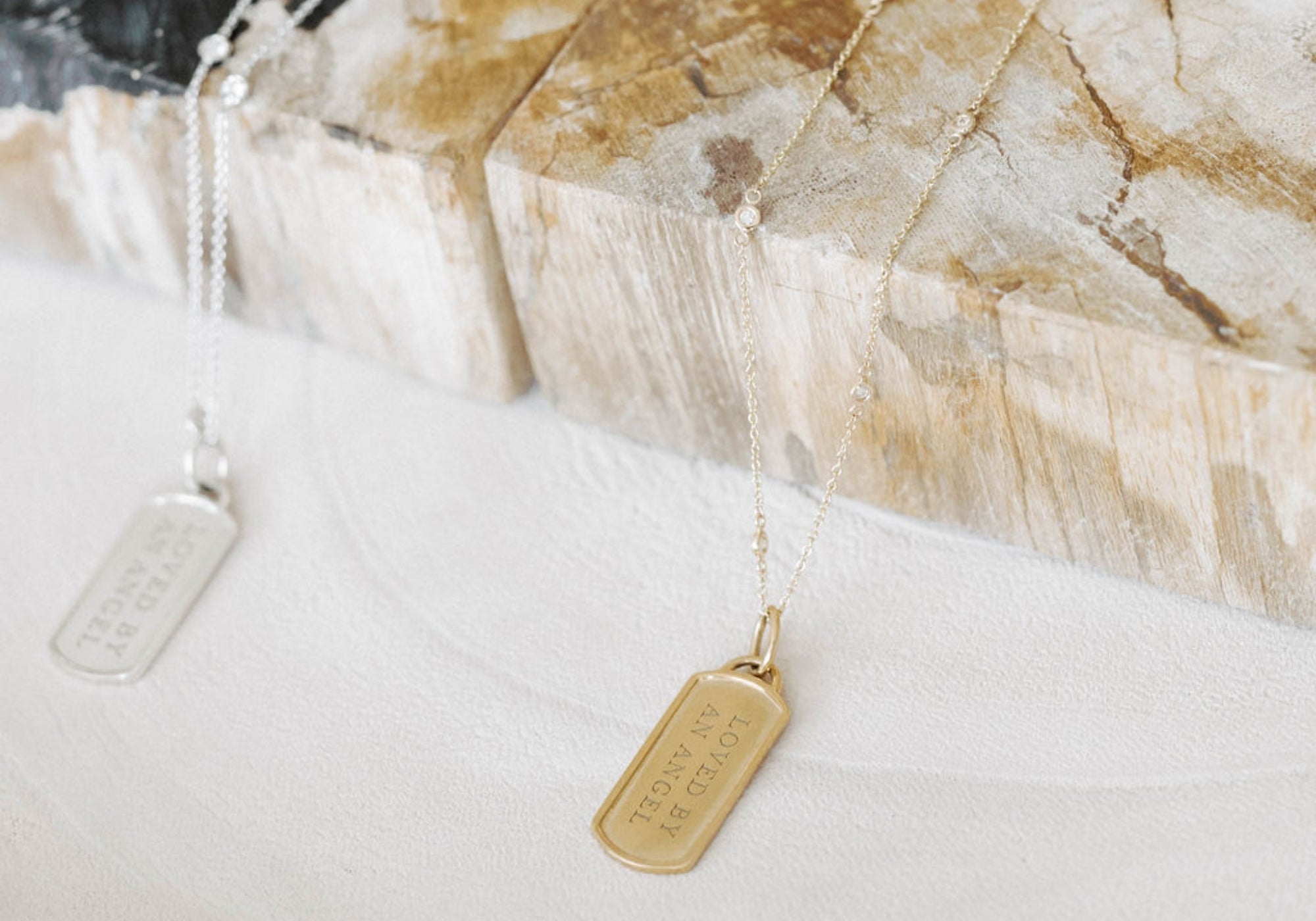 Offering only the best of the best
Our gold + silver
Our pieces are solid, and made from precious metals, allowing us to classify ourselves as a true fine jewelry brand.
14k Gold
By offering both 14k solid white and yellow gold, we ensure our jewelry is not only beautiful, but also durable to withstand day after day wear. This is our highest level piece — each stamped with 14k.
Sterling Silver
Using solid 925 sterling silver allows us to offer a beautiful, yet affordable, alternative to 14k gold. We also offer an elevated option for our sterling silver foundation tag by pairing it with a solid 14k yellow gold jump ring. All of our sterling silver pieces are rhodium plated, allowing them an extra layer of durability and protection.
Gold Vermeil
Gold vermeil defines the process of plating a solid 925 sterling silver base with a thick layer of 14k yellow gold — this allows us to achieve the look of a 14k yellow gold piece with a more affordable price tag. All of our gold vermeil pieces are plated in the United States by industry leading professionals.
We abide by the 1906 Gold and Silver Stamping Act which mandates, by law, if a karat mark is stamped on a piece of jewelry, it must be accompanied by a registered trademark. Each foundation tag has both a karat stamp (14k or 925) along with our trademark which guarantees gold content.
Learn More About Sterling Silver
Learn More About Gold Vermeil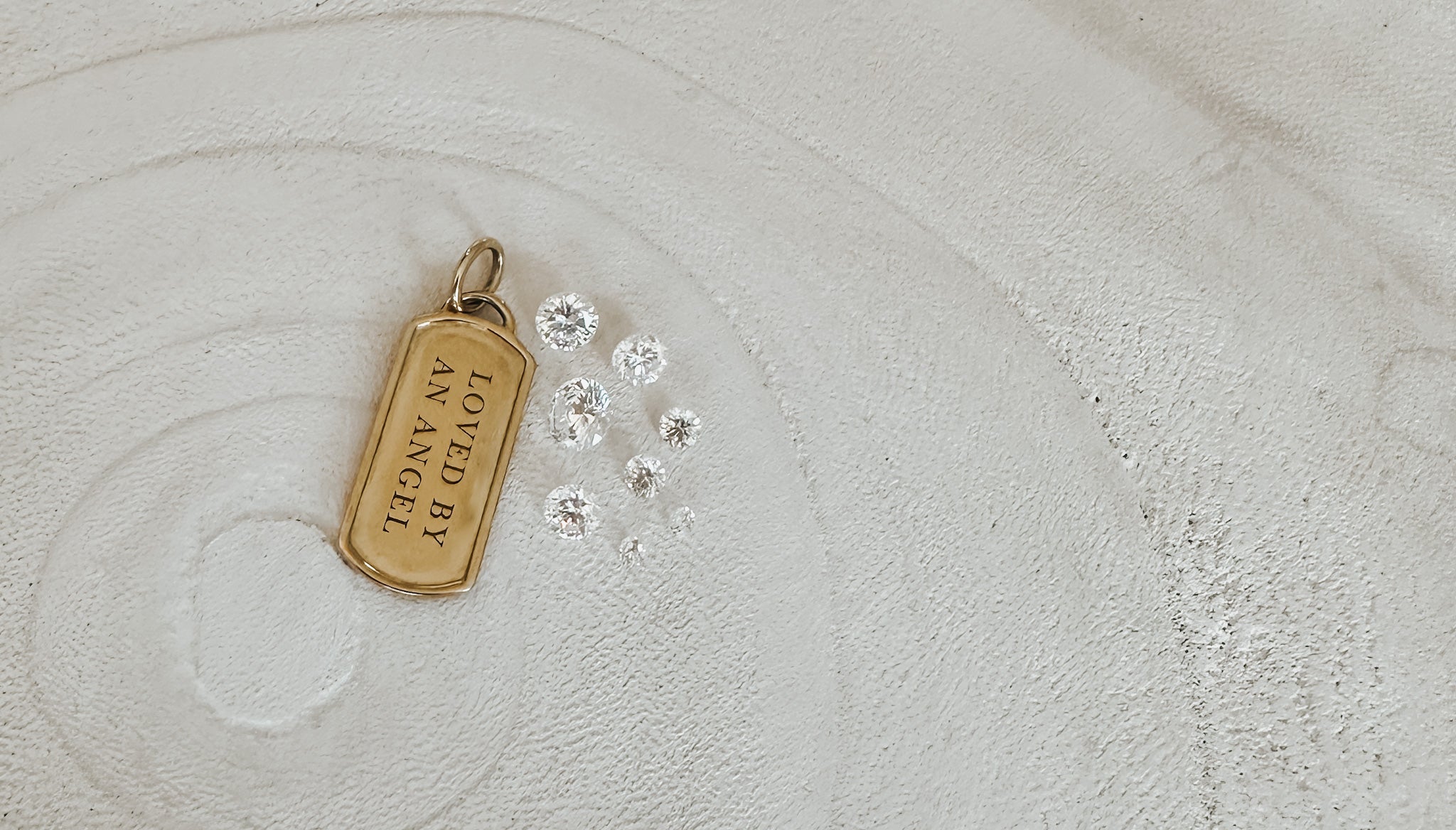 A diamond is forever
OUR DIAMONDS
By using only ideal cut, we ensure that our diamonds are perfectly proportioned to reflect light from every angle. Being among the rarest of cuts, ideal cut diamonds are considered the benchmark for all diamond grading, and are regulated by the American Gem Society Laboratory (AGSL).
We hold the grading of our diamonds to a high level of importance, and choose to only use natural diamonds with a grading of GH/VS. This ensures a near colorless stone, with little to no inclusions visible to the naked eye.
Aside from cut, color and clarity, we are also committed to using only diamonds that are conflict-free, and are sourced in ethical manner.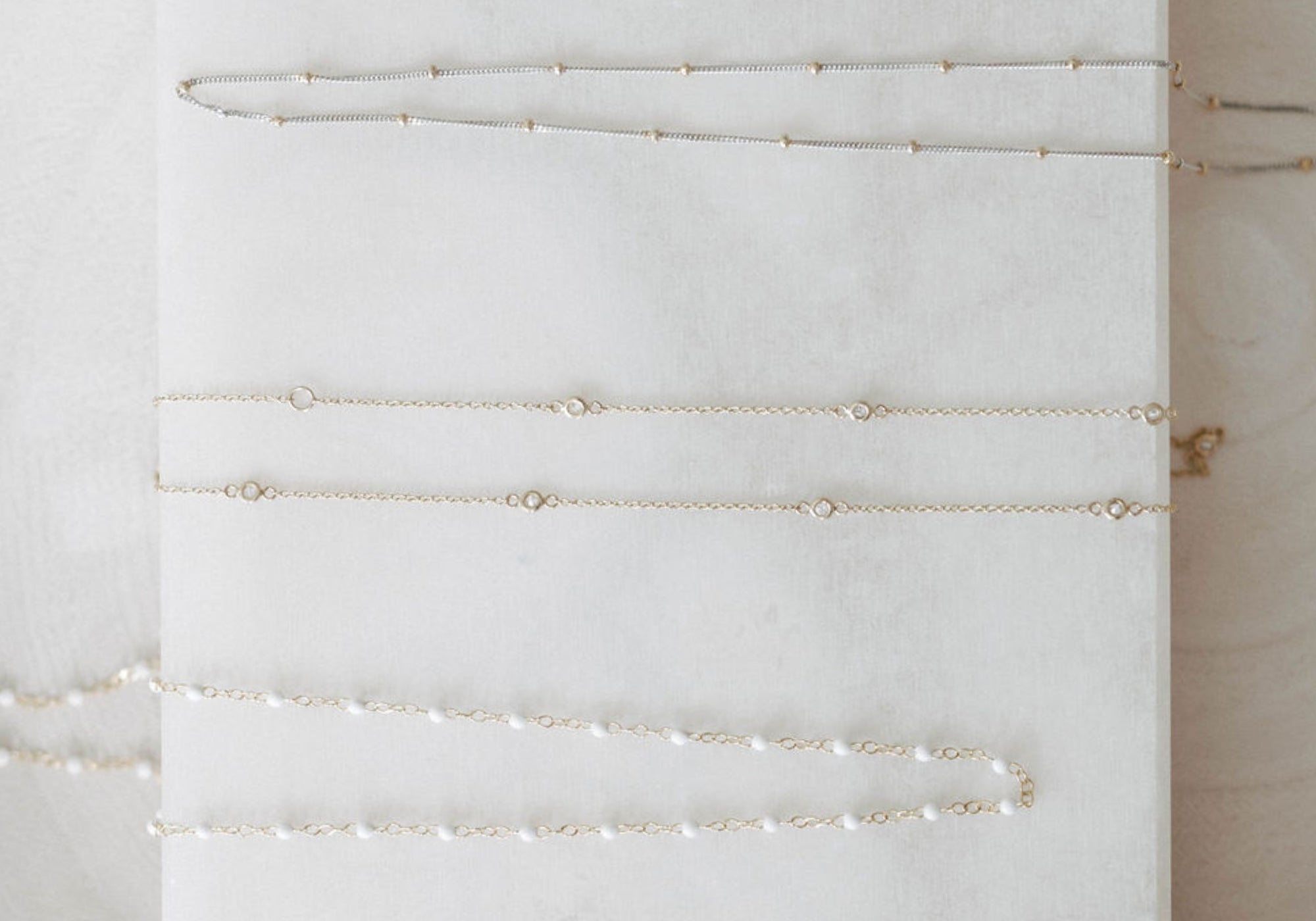 The final piece of the puzzle
Our Chains
We couldn't design the foundation tag without pairing it with the perfect selection of chains. Each capturing an individual aesthetic — from minimal to statement — our chains are crafted with solid construction and best in class lobster claw closures.
The Ella a minimal, classic oval link chain
The Lauren a trendsetting, statement chain
The Taylor a simple, elegant bead station chain
The Wells our luxury chain, adorned with diamond stations
Learn About Our Chains